Tina Lee Creations Global LLC
Regular price
$97.00 USD
Sale price
$79.00 USD
Unit price
per
Sale
Sold out
Save time & effort researching for your next instagrammable trip!
100+ photo locations in NYC with specific photo tips, visual examples, and detailed information (when to visit, cost, crowd volume, tripod allowance and more)
Easy-to-digest city map that's divided to help you navigate New York at a glance
Recommended photographers in New York that I've personally worked with
30+ hotels glossary with the best views and the specific room types to book
40+ most Instagrammable food & drinks glossary for rooftop bars, cafes and restaurants
Private New York database with powerful filtering functions so you can easily narrow down specific locations based on your needs
Google map of New York with all locations pinned and categorized by location type
Share
View full details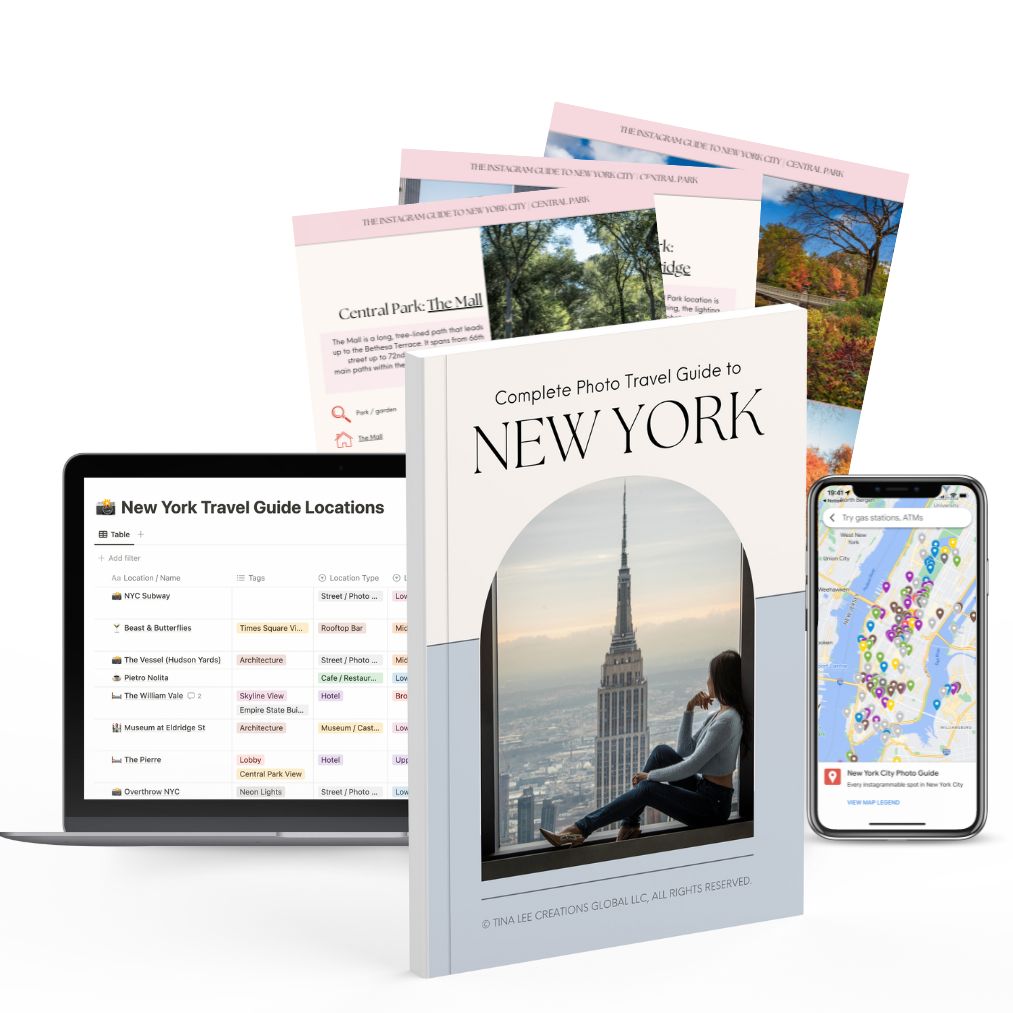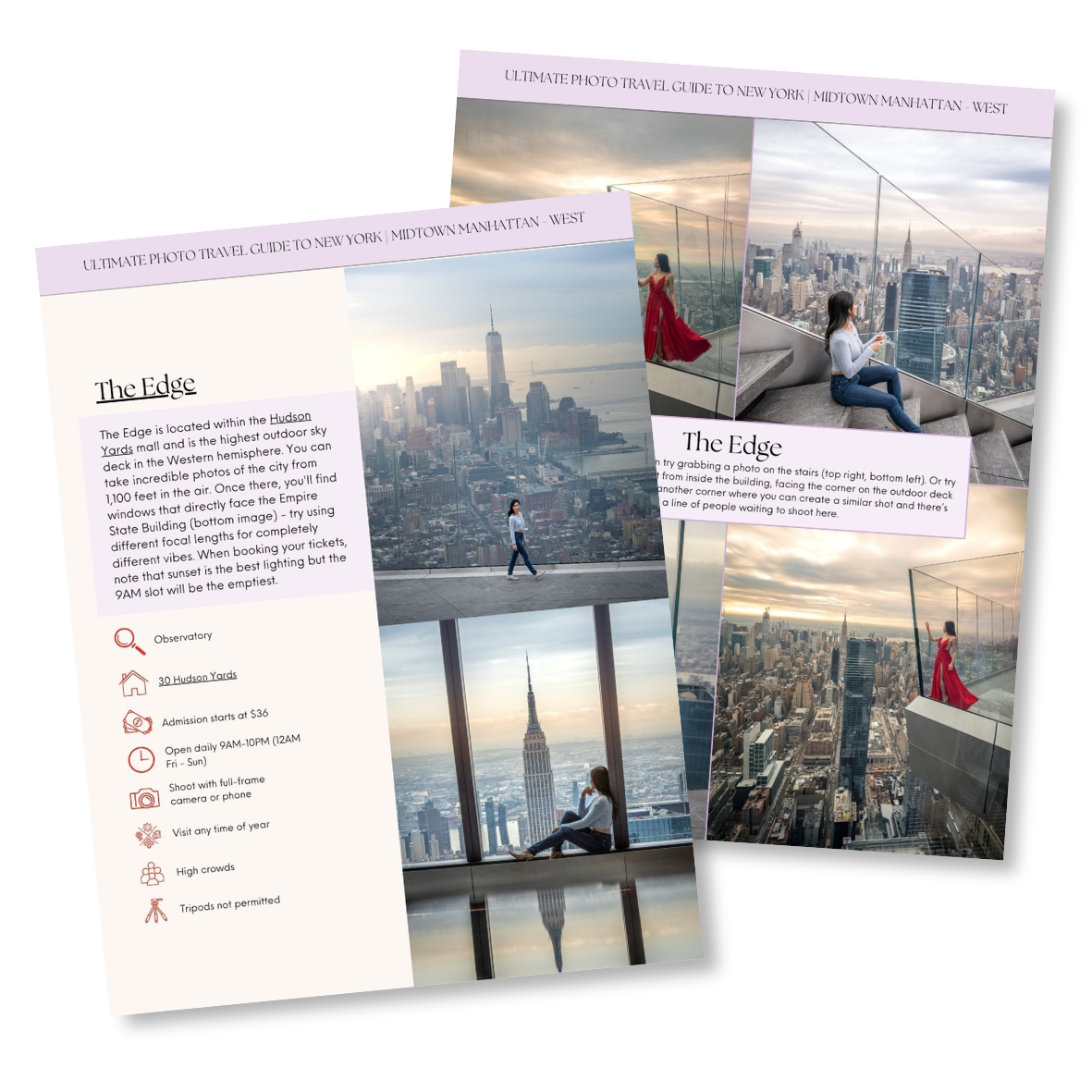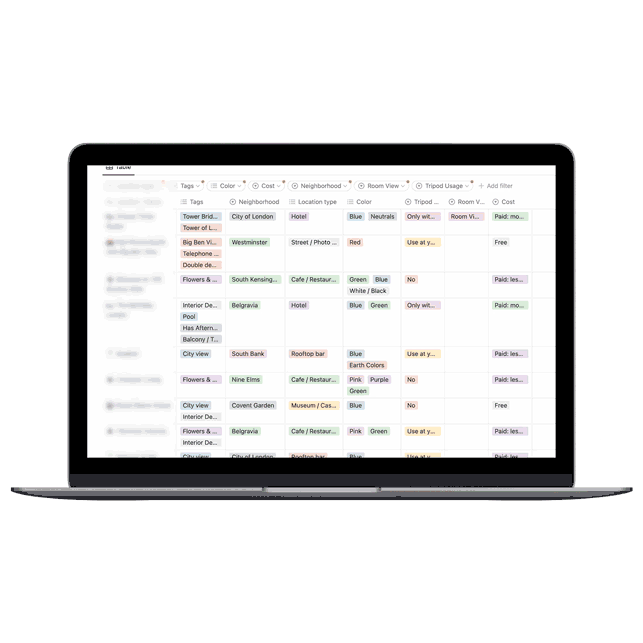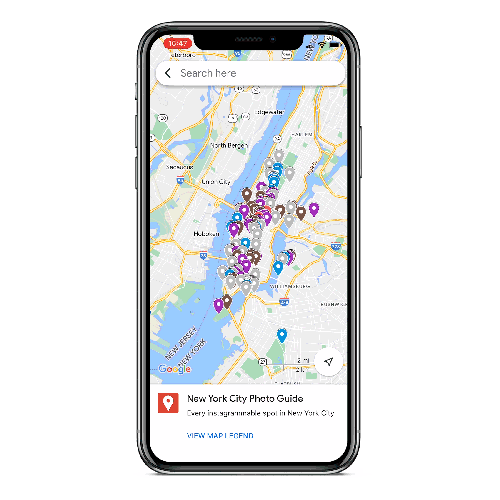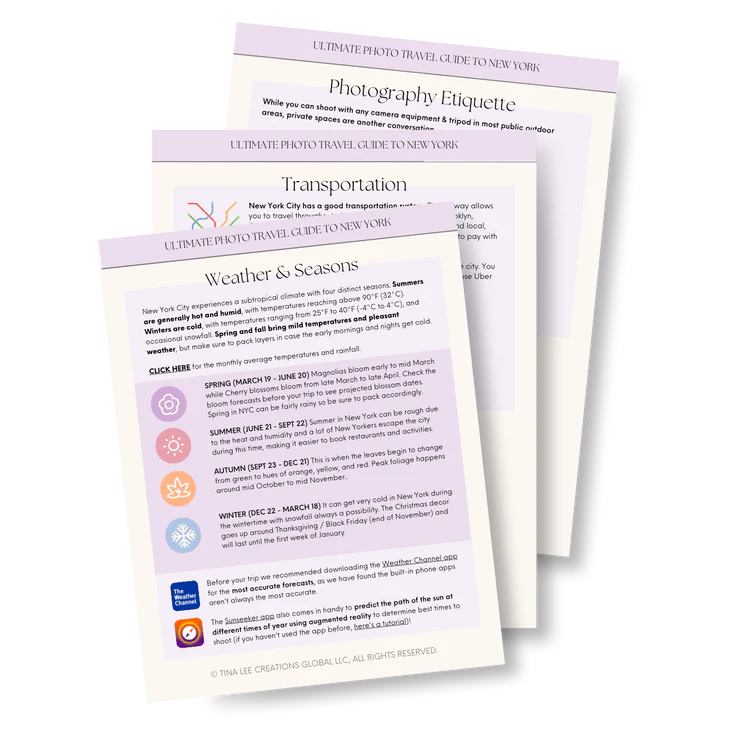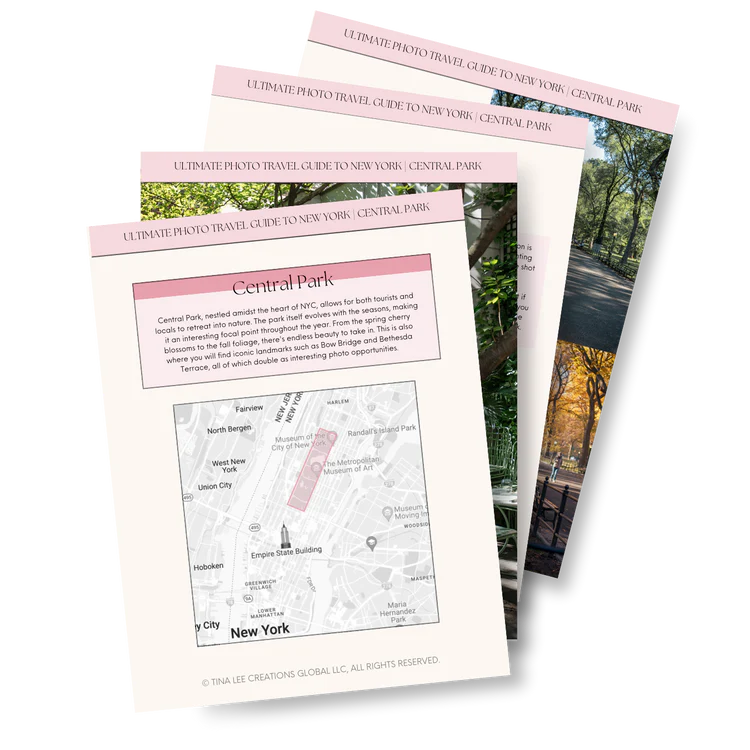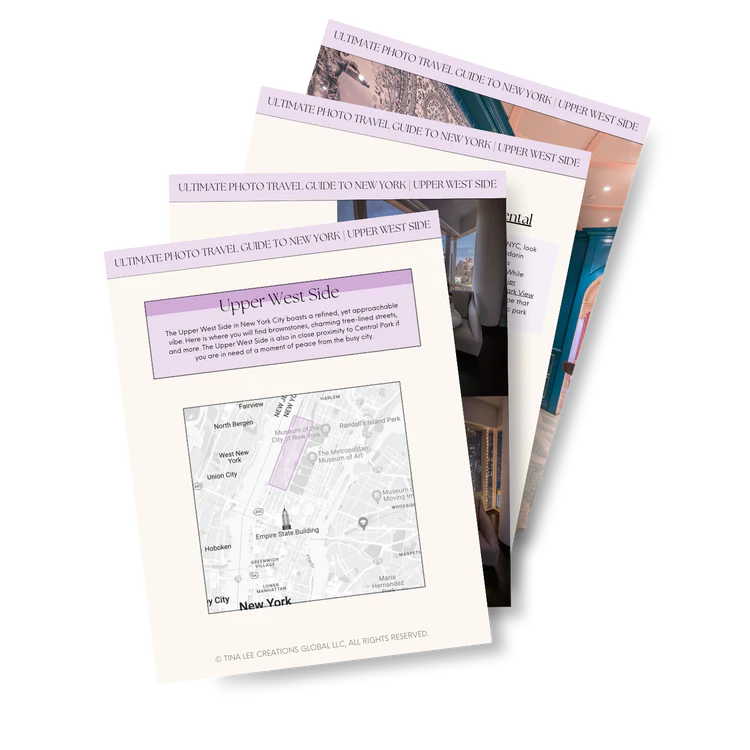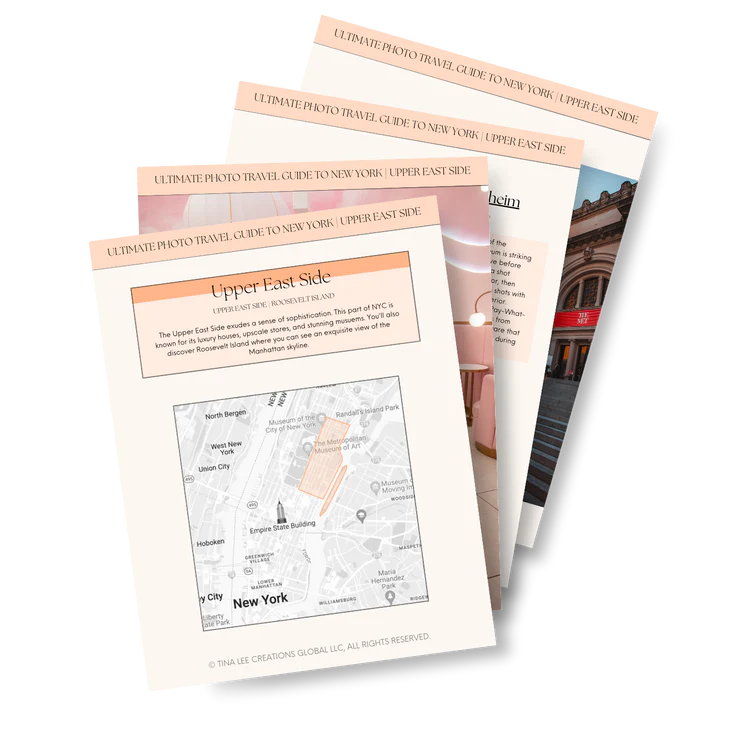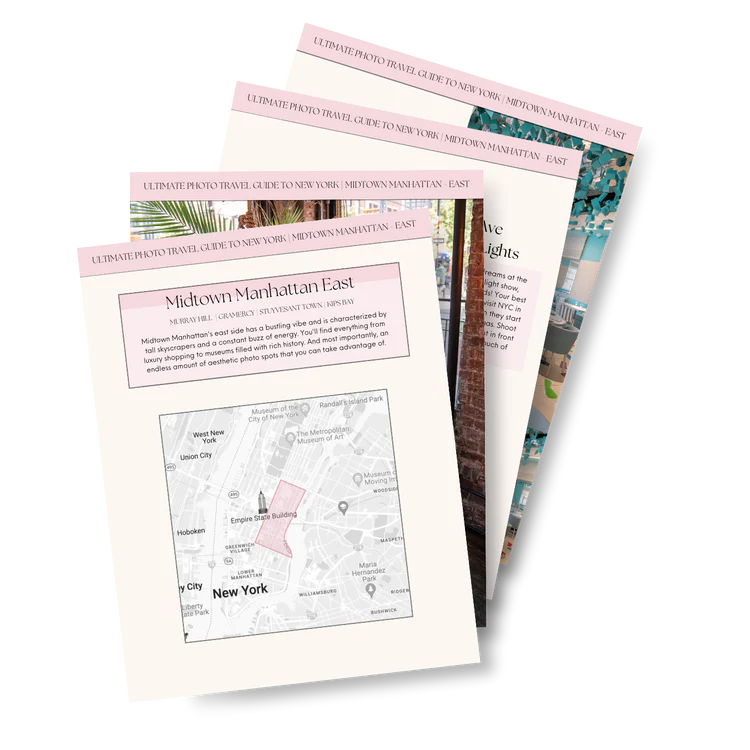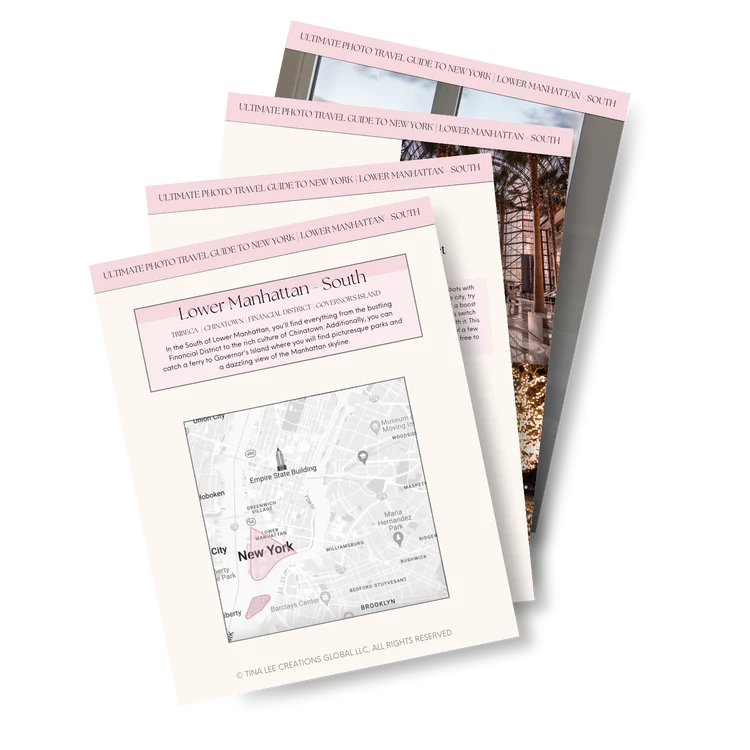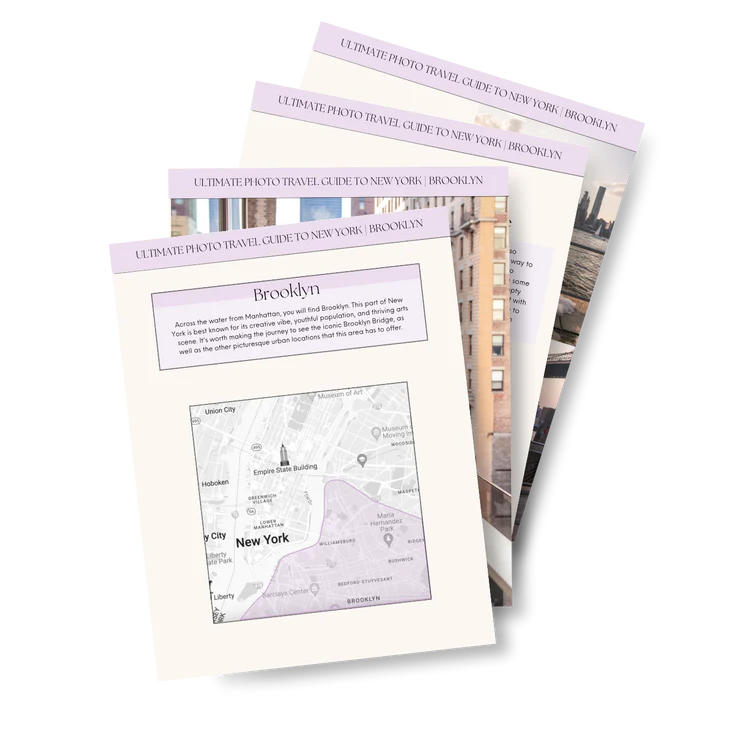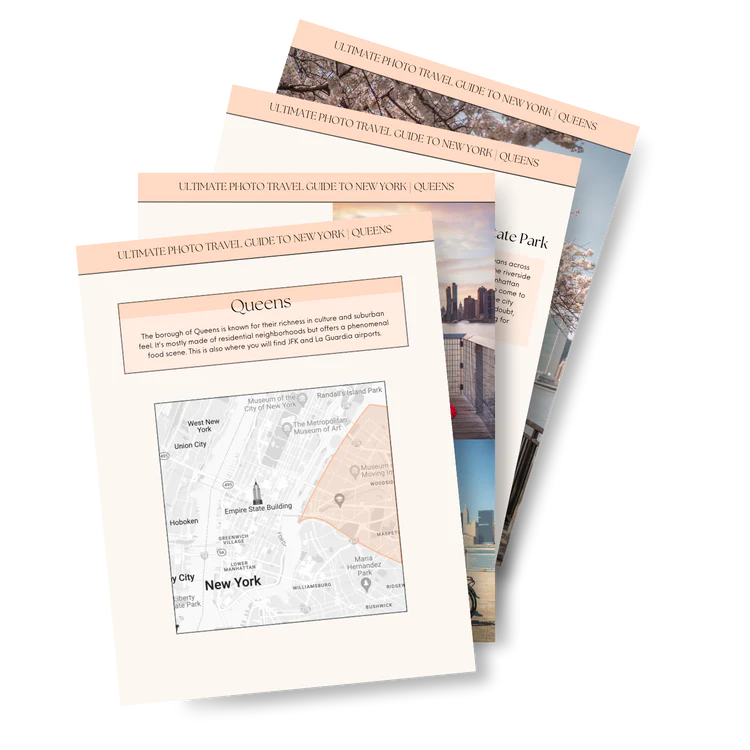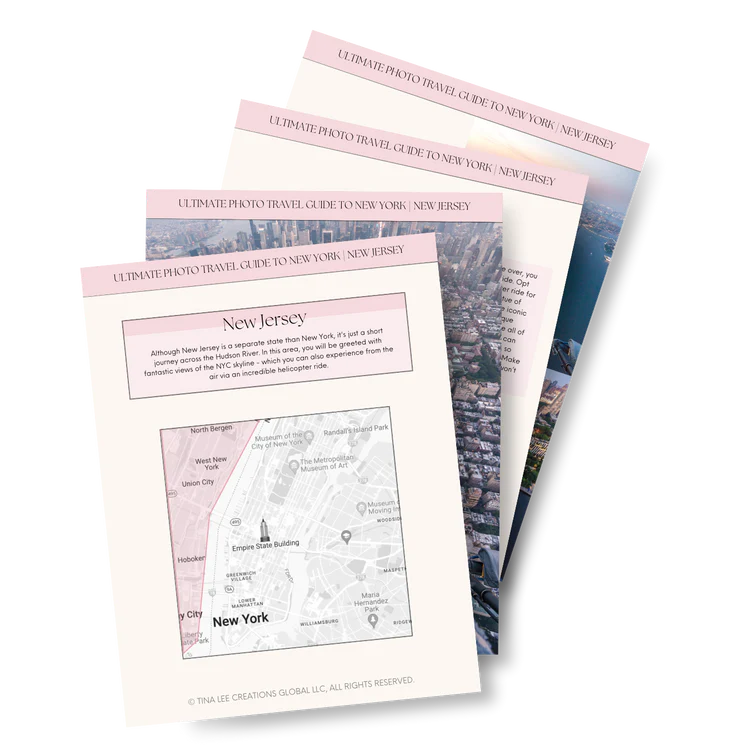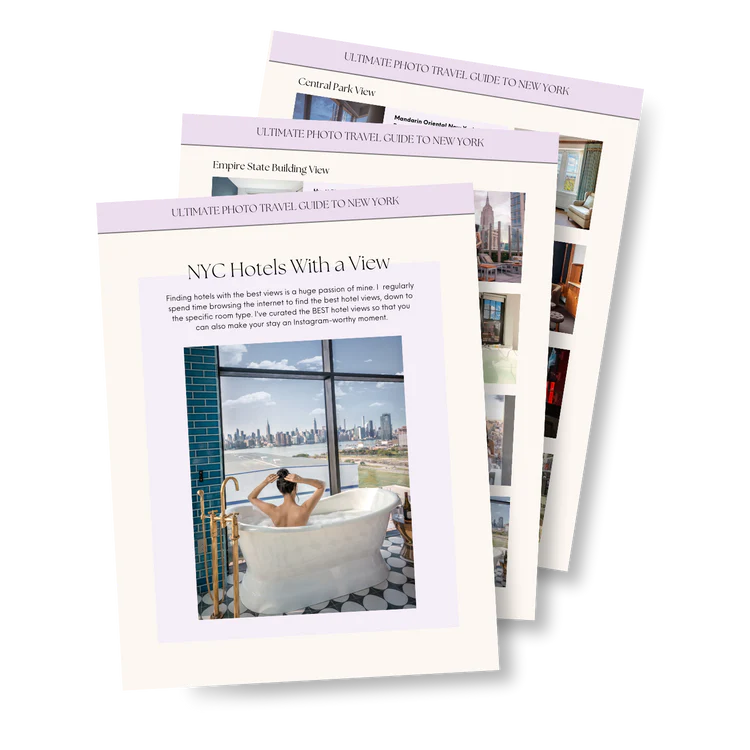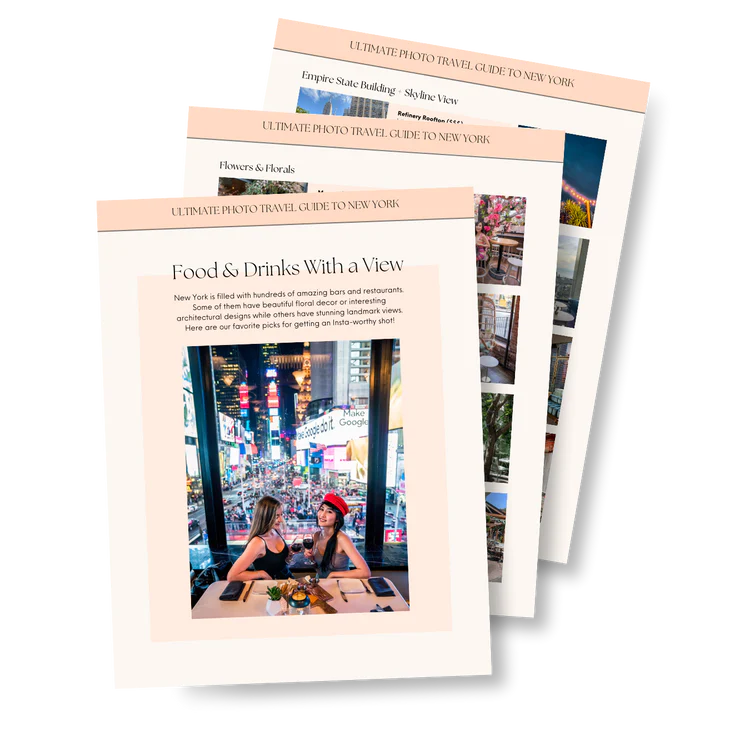 Get the Bundle and save almost 40%!
If visiting Paris and London has always been a dream of yours, then you need to get the New York / Paris / London Bundle! During the launch period, you can instantly save $111 by purchasing the bundle!
See the Photo Guide in Action
What's Inside Our Photo Travel Guide
Get to Know New York

Before you touch down in NYC, read our guide to get a handle on important information such as the weather, currency and tipping best practices, transportation tips, and safety precautions.

Recommended Photographers

We understand how everyone is always looking for photographers to help capture incredible content. Thus, we're recommending our trusted, reliable photographers in this guide.

Central Park

Explore the most visited urban park in the United States and shoot a bunch of beautiful content along the way. Our guide breaks down 9 picturesque locations you cannot miss in Central Park.

Upper West Side

The Upper West Side is full of charm. You'll find an endless amount of photo-ready locations, but our guide shares 2 spots you don't want to miss out on.

Upper East Side

The Upper East Side of NYC is sophistication at its' finest. Use our guide to pinpoint the 6 most aesthetic spots in this area.

Midtown Manhattan - East

This part of the city is worth the visit for its buzzing energy. Our guide lays out 19 different spots where you can capture viral-worthy content!

Midtown Manhattan - West

This is where you will find iconic destinations like Chelsea Market, the Highland, and Times Square. Purchase this guide to unlock 24 must-see locations around this area!

Lower Manhattan - North

This part of the city is a blend of historic charm and modern high-rises (with plenty of shopping opportunities). Get ready to explore 22 aesthetic spots in lower Mahattan - North.

Lower Manhattan - South

Here you will find everything from the bustling Financial District to the rich culture of Chinatown. Tap in to discover 14 street spots, museums, and more.

Brooklyn

Known for its creative and youthful vibes, Brooklyn is 100% worth the visit. To prove our point, we share 16 spots to capture unforgettable content.

Queens

This NYC borough is known for the rich culture and suburban feel. If you find yourself in Queens, be sure to refer to our top 2 destinations for content.

New Jersey

Although this is a different state, New Jersey sits just across the river and is perfect for capturing epic views of the Manhattan skyline. Don't miss out on our top 2 experiences!

Hotels with a View

Your stay can be just as instagram-worthy. We're sharing a list of hotels with stunning Manhattan views, along with the price points, exact room type, and a direct booking link so you can plan your trip with ease.

Most Instagrammable Restaurants & Rooftops

Of course, every trip is not complete without indulging in drool-worthy eats. Kill two birds with one stone by visiting these restaurants and bars with instagram-worthy views and decor.

Location Database with Powerful Filter Functions

You'll also have access to our powerful Notion database with over 170+ entries. This will allow you to filter through every spot so you can better plan your trip.

Digital Map

Your purchase also includes a Google map guide with over 150+ locations that are already plugged in so you can plan your itinerary accordingly!