Tina Lee Creations Global LLC
Regular price
$125.00 USD
Regular price
$180.00 USD
Sale price
$125.00 USD
Unit price
per
Sale
Sold out
(This Japan Travel Guide includes the Tokyo Travel Guide!)

Save time & effort researching for your next Instagrammable trip!
200+ photo locations in Japan with specific photo tips, visual examples, and detailed information (when to visit, cost, crowd volume, tripod allowance and more)
Covers major destinations including Tokyo, Kyoto, Osaka and the Mt Fuji area
Easy-to-digest city maps that's divided to help you navigate each city at a glance
Our recommended photographers in Japan that I've personally worked with
60+ hotels glossary with the best views and the specific room types to book
40+ most Instagrammable food & drinks glossary for rooftop bars, cafes and restaurants
Private Japan database with powerful filtering functions so you can easily narrow down specific locations based on your needs
Google maps of Tokyo, Kyoto/Osaka and Mt Fuji area with all locations pinned and categorized by location type
Share
View full details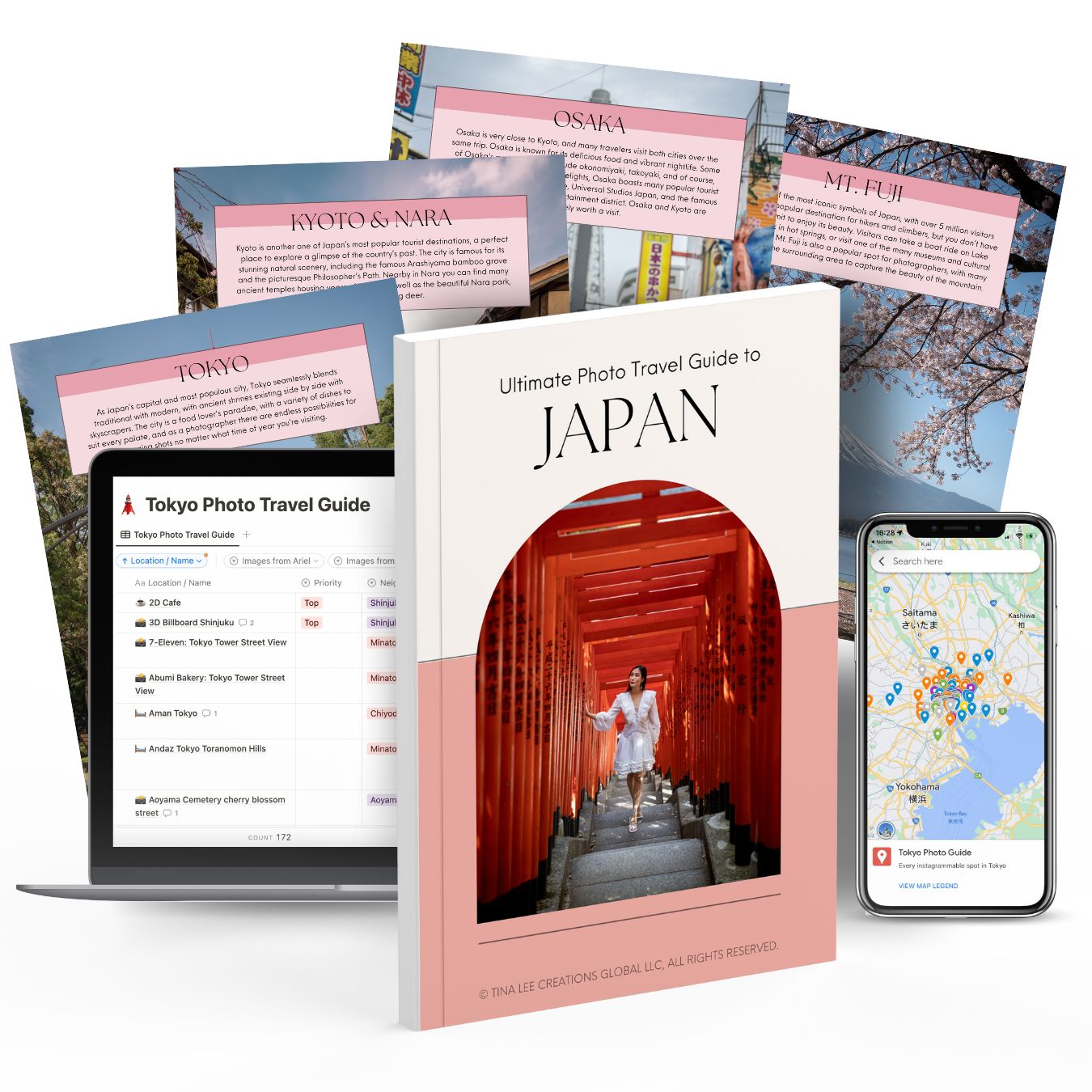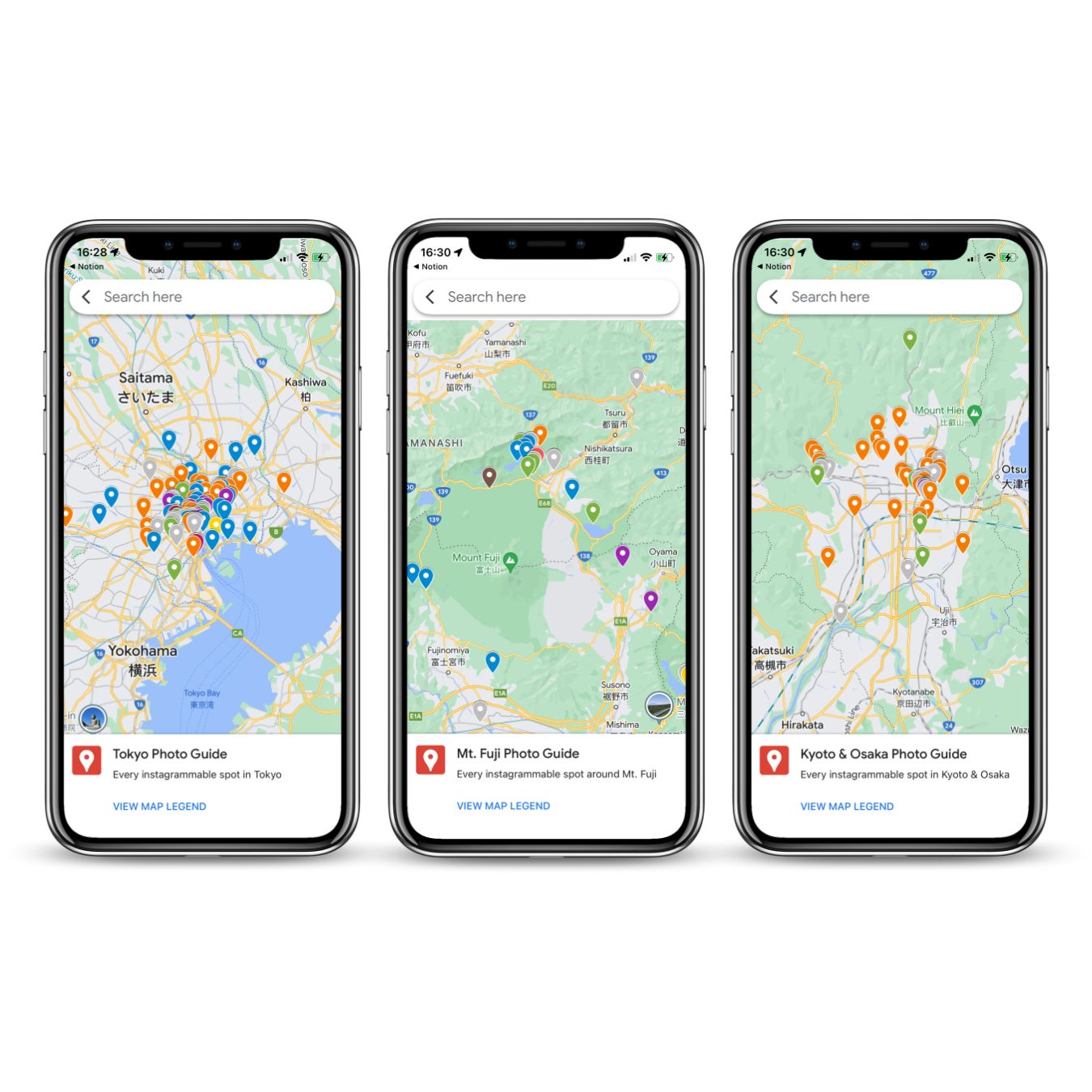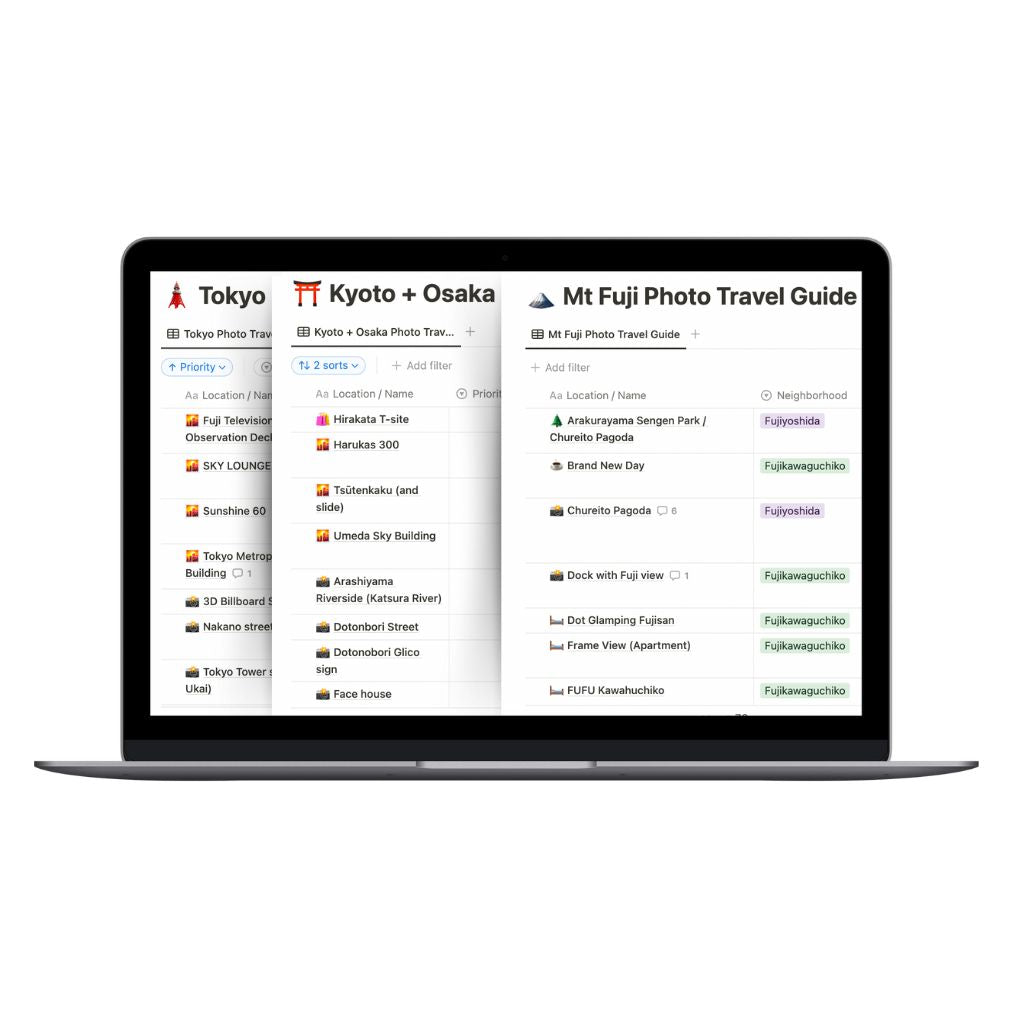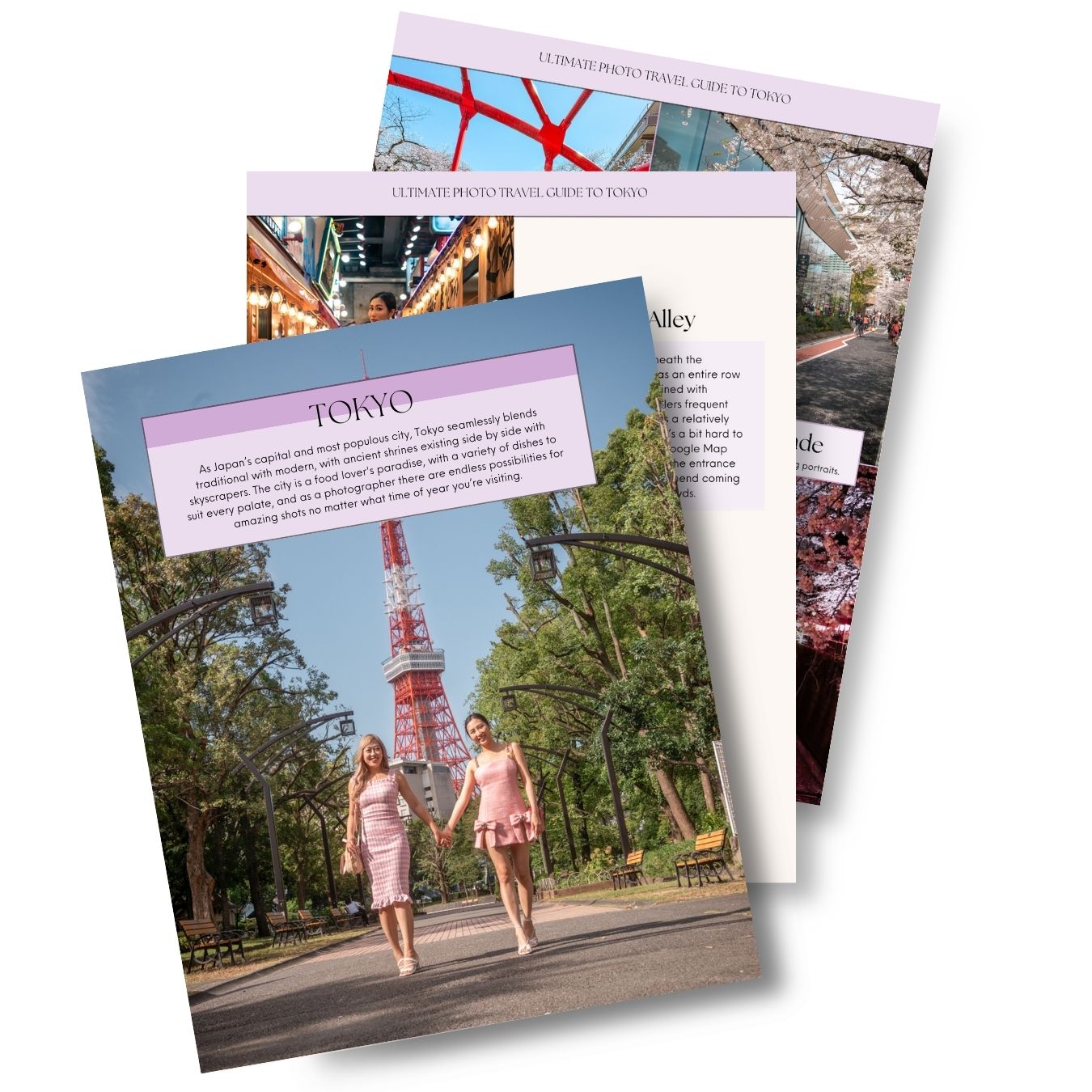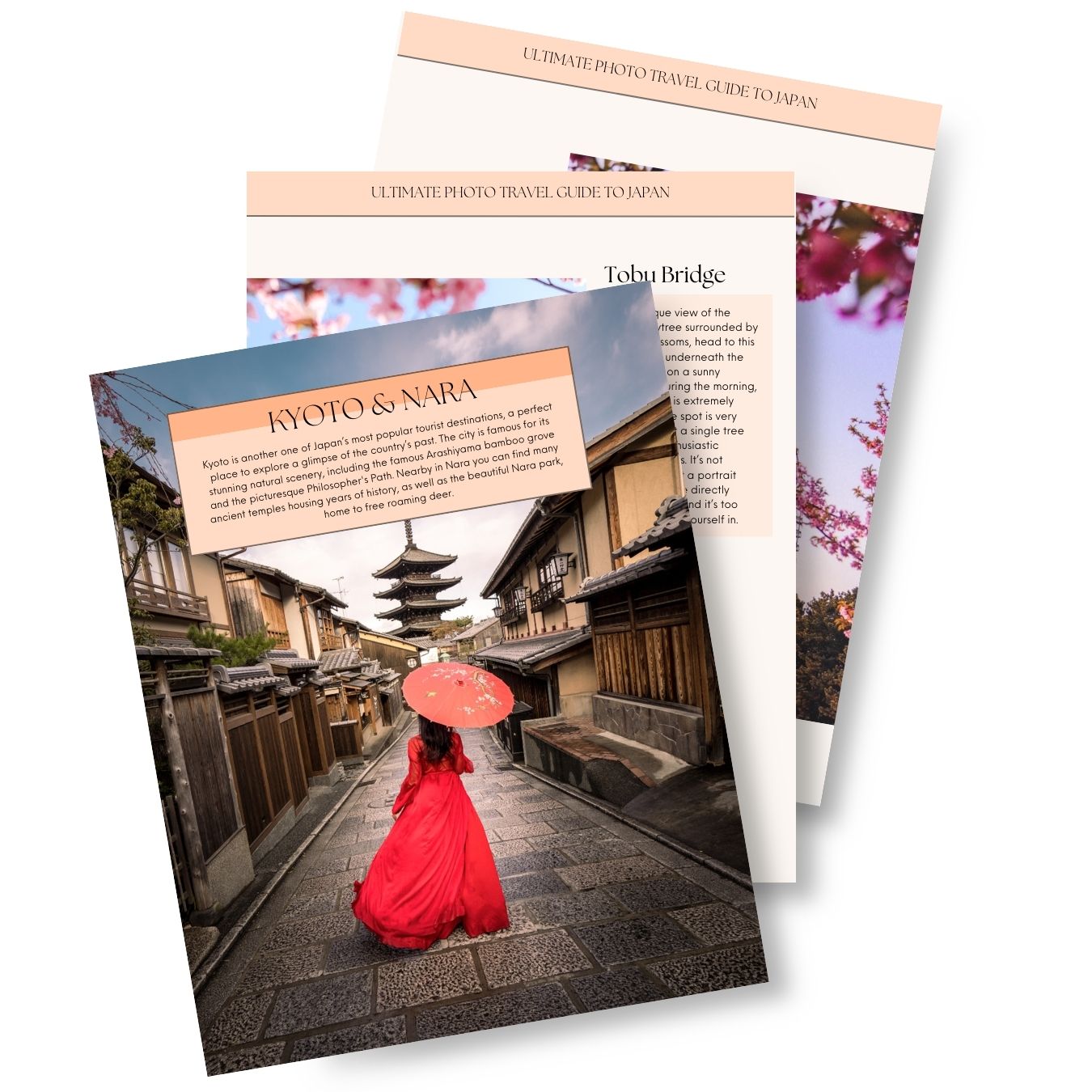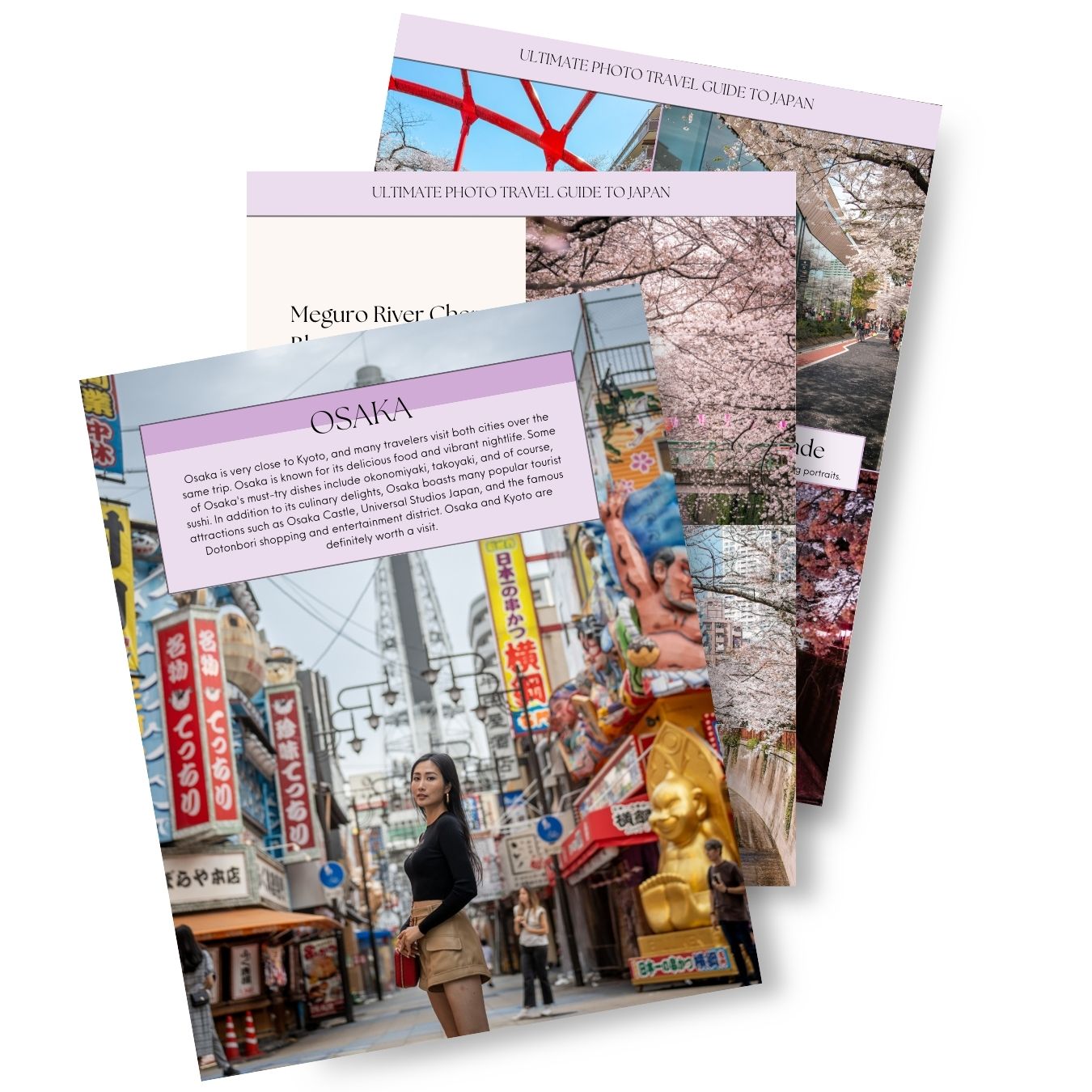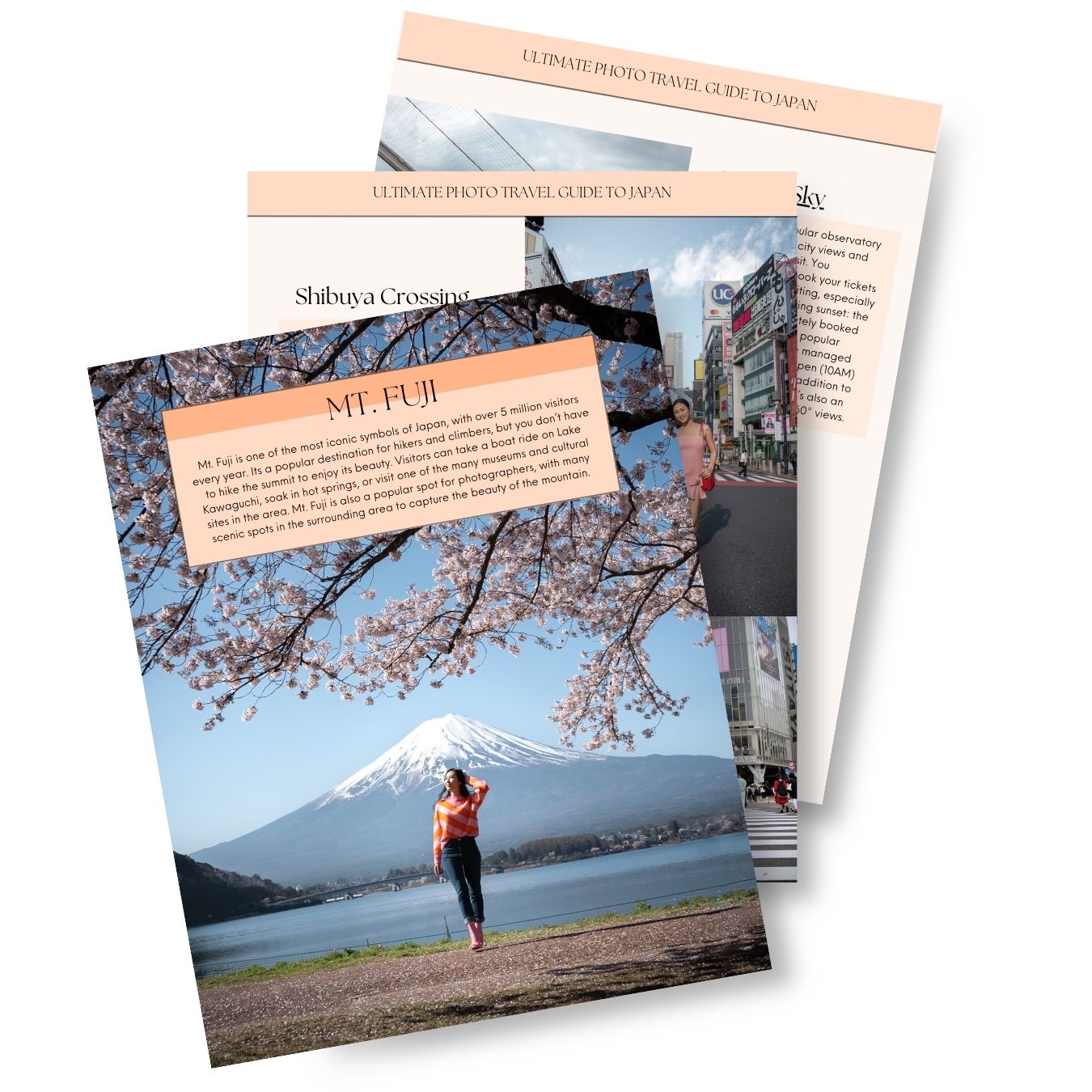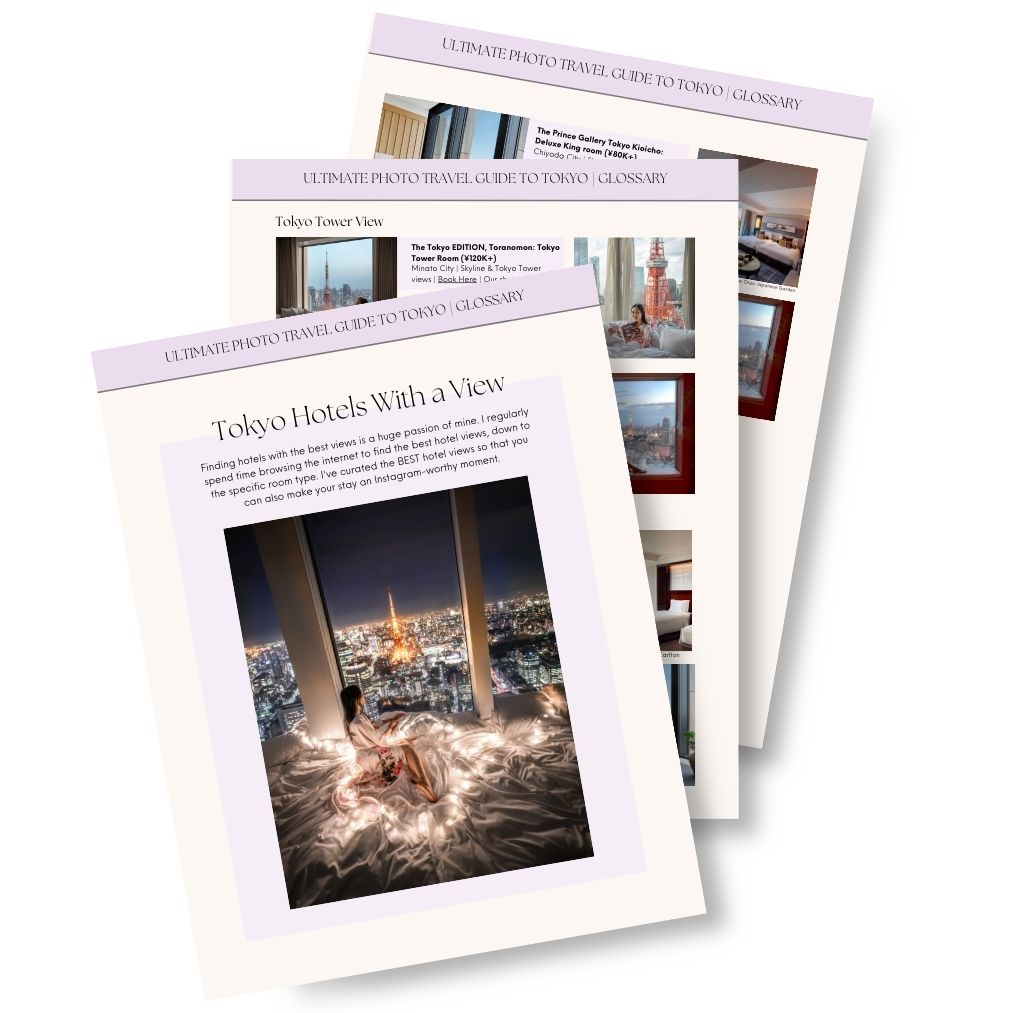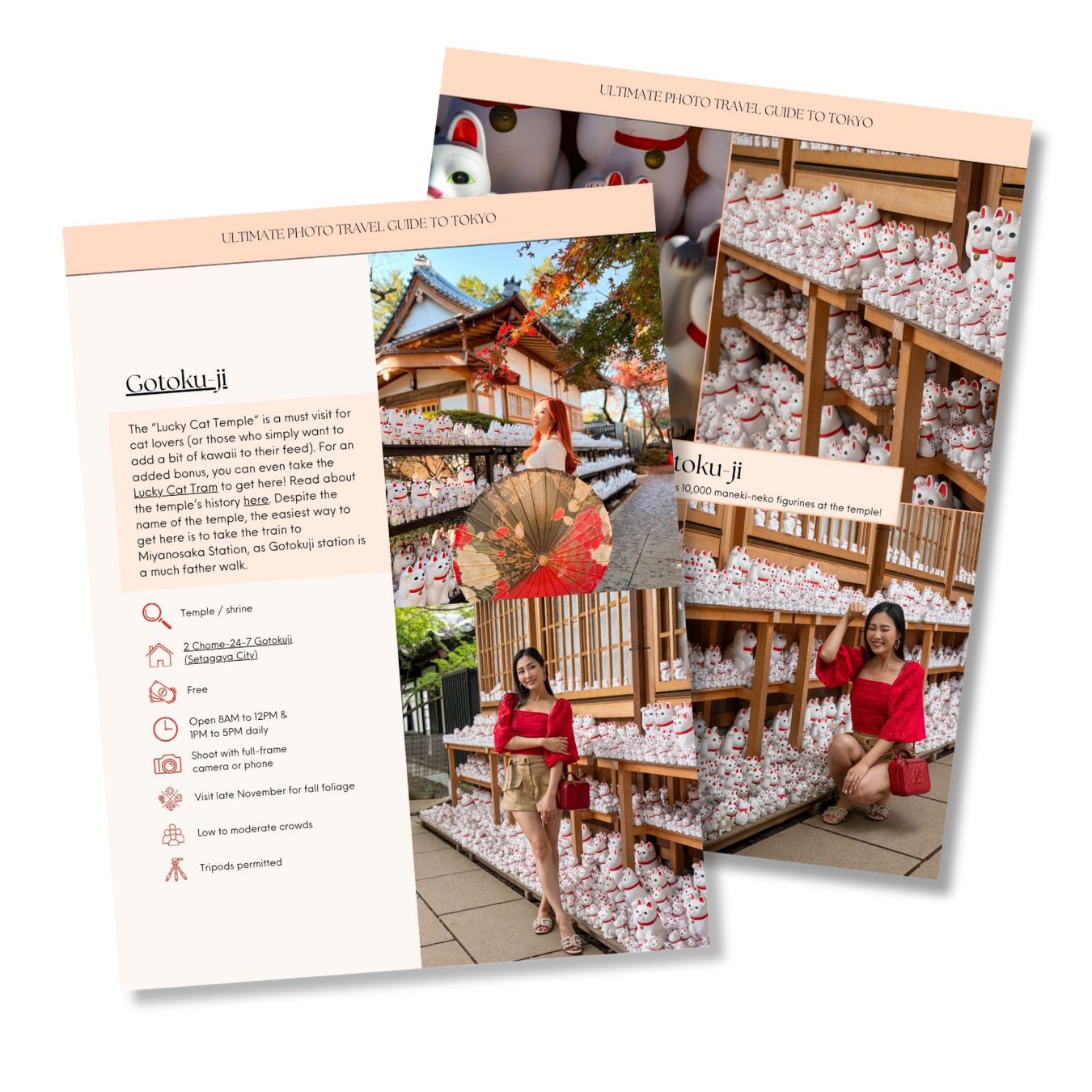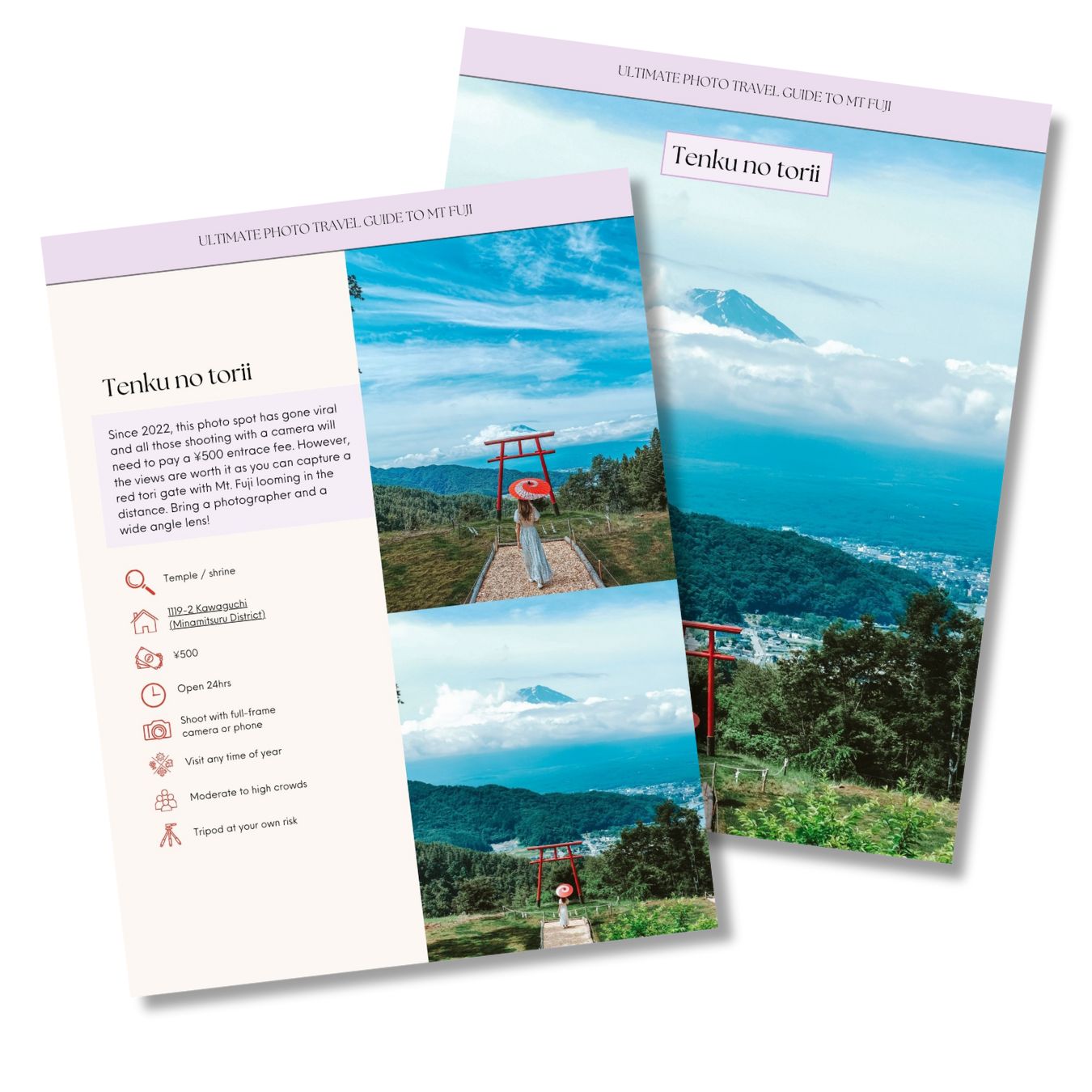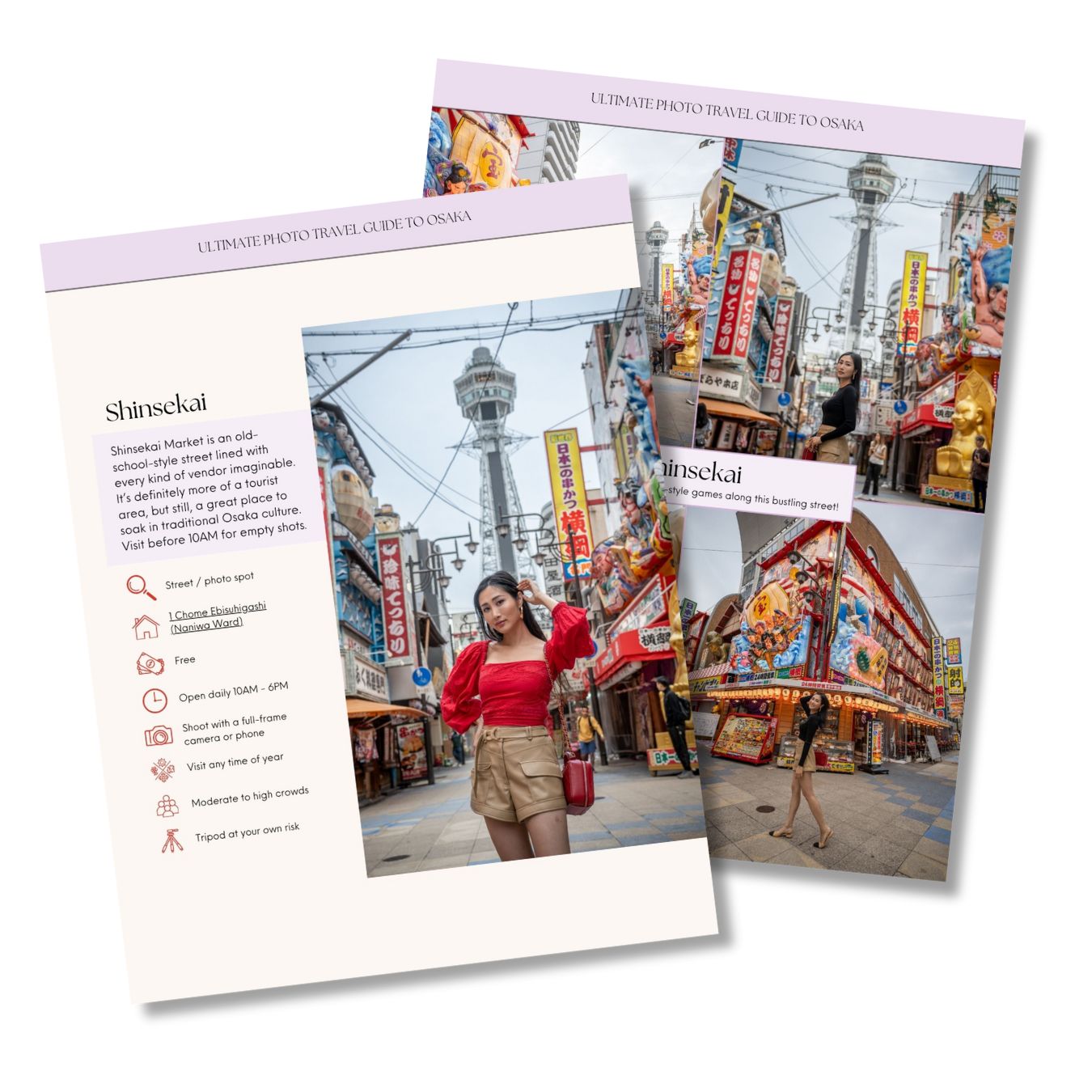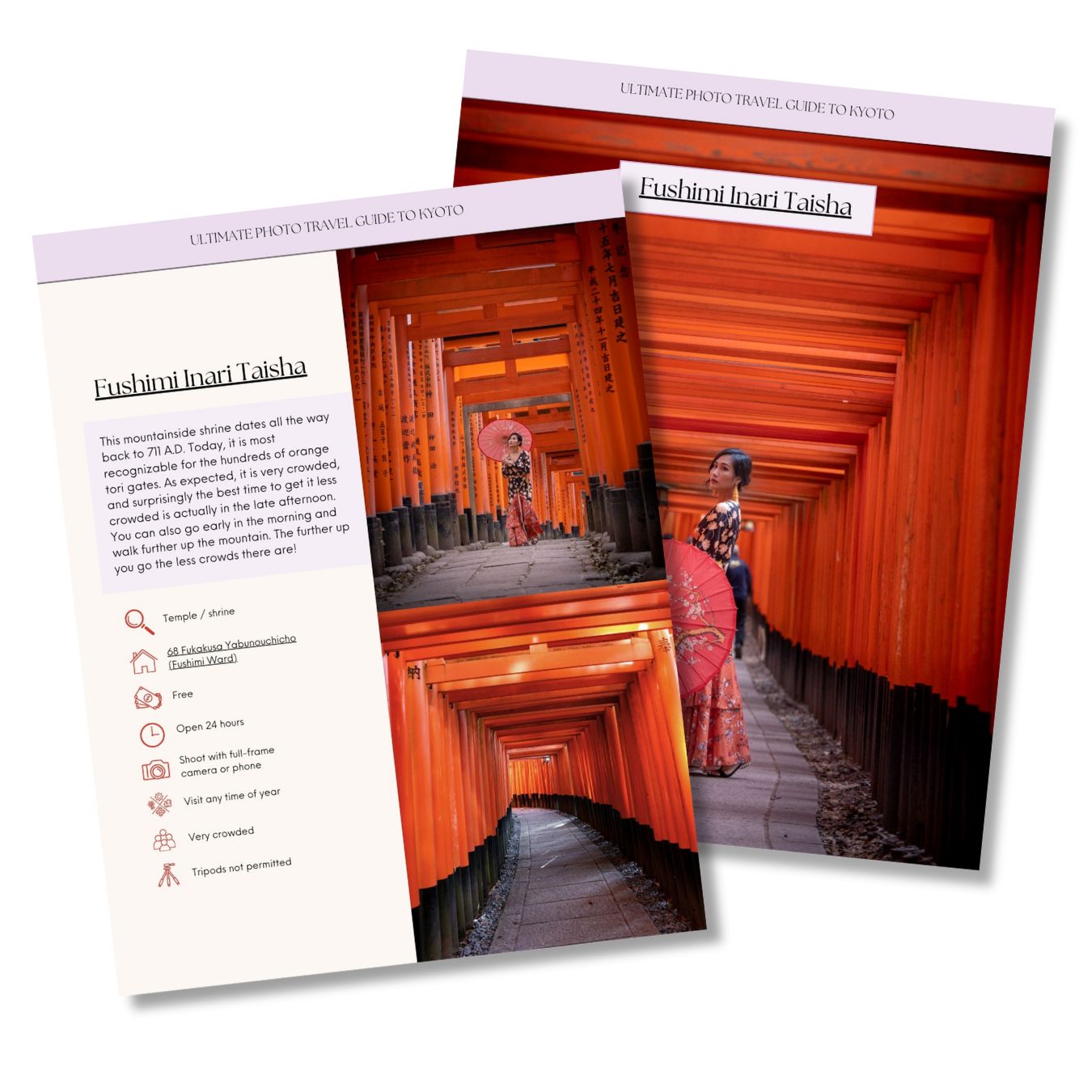 Limited Time Discount + BONUS!
To celebrate the launch of this guide we are gifting you a FREE food guide with 200+ restaurant recommendations that can be filtered for type of dish, cost, crowd, and more!
Filter for your desired locations 🤯
You'll also have access to our powerful private database with over 300+ entries. This will allow you to filter through every spot using tags and conditions to find specific locations.

For example, sort according to hotels with a Tokyo Tower view, temples with free entry, restaurants with floral decor, and more!
What's Inside Our Photo Travel Guide
Get to Know Japan

Before you touch down in Japan, read our guide to get a handle on important information such as the weather, currency and tipping best practices, transportation tips, and safety precautions.

Recommended Photographers

We understand how everyone is always looking for photographers to help capture incredible content. Thus, we're recommending our most trusted, reliable photographers in this guide.

Tokyo

Tokyo, the bustling capital of Japan, is the must-visit city of your visit to Japan! Our guide shares 100+ locations where you can capture stunning content.

Kyoto

Journey to Kyoto to find ancient temples, beautiful blossoms and stunning fall foliage. We're revealing 65 of the best kept locations in this city.

Osaka

Osaka is very close to Kyoto, and many travelers visit both cities over the same trip. Osaka is known for its delicious food and vibrant nightlife. We're sharing 18 must-see destinations!

Mt Fuji

Mt. Fuji is one of the most iconic symbols of Japan, with over 5 million visitors every year. Discover 15 spots that are unbeatable in the Yamanashi prefecture.

Day Trips

There are a few day trip spots that are just 1 hour away from central Kyoto / Osaka that we must recommend you visit!

LAUNCH BONUS!

To celebrate the launch of our Japan Guide, we are gifting you a database of 200+ hottest restaurants in Japan. You can filter for the type of food, cost, crowds, and more!

Hotels with a View

Your stay can be just as instagram-worthy. We're sharing a list of hotels with stunning Japan views, along with the price points, exact room type, and a direct booking link so you can plan your trip with ease.

Most Instagrammable Restaurants & Rooftops

Of course, every trip is not complete without indulging in drool-worthy eats. Kill two birds with one stone by visiting these restaurants and bars with instagram-worthy views and decor.

Location Database with Powerful Filter Functions

You'll also have access to our powerful Notion database with over 300+ entries. This will allow you to filter through every spot so you can better plan your trip.

Digital Map

Your purchase also includes a Google map guides to Tokyo, Kyoto/Osaka, and Mt. Fuji which means over 300+ locations that are already plugged in so you can plan your itinerary accordingly!